Market Sentiment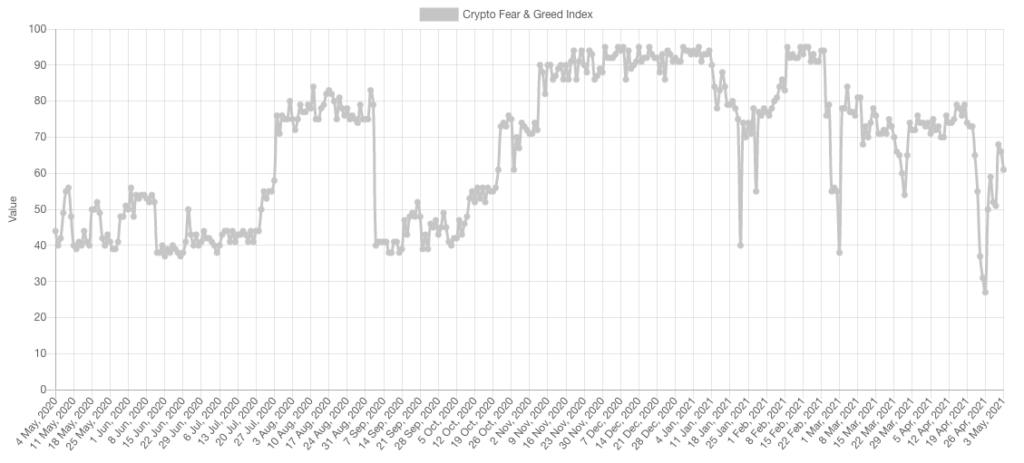 Last week, the market was dipping, and the sentiment was in Fear. We mentioned that these was a few unique opportunities where the market gives participants a chance to enter on an apparent fearful dip amid a bull market.
Today, the market is at low levels of Greed, which means there is still room for growth before a top formation. Of course, one cannot solely trade based on the Fear & Greed index. It only represents an extra confluence to take into consideration in addition to technical and fundamental data.
Market Indexes
Total Market Cap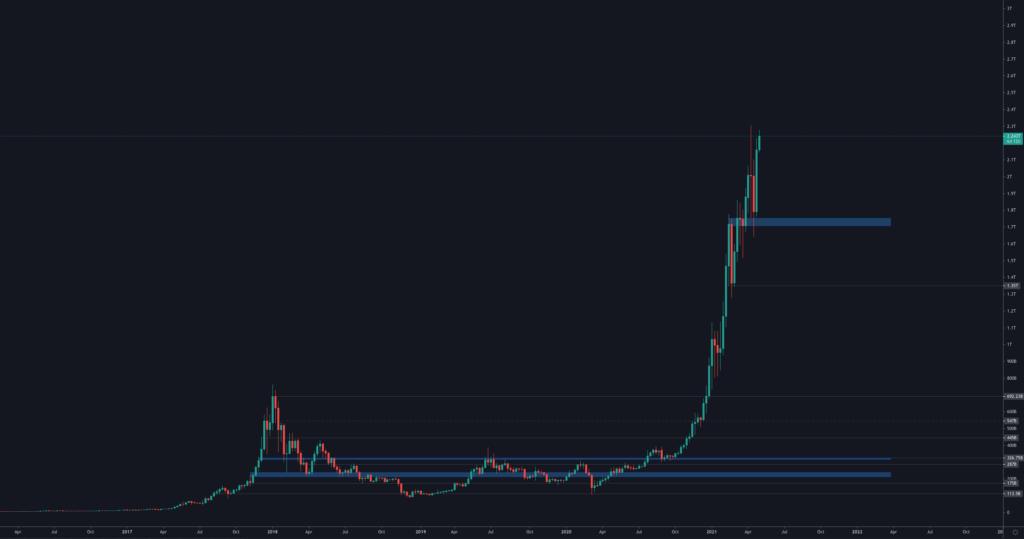 Confluence with the fear seen on the index last week, we saw prices reach support at $1.7T – which is exactly where buyers stepped in and demand increased significantly. The Total Market Cap has created a brand new high on the weekly timeframe, indicating likely farther upside continuation on the horizon.
Altcoins Market Cap
We continuously stated that the Alt MCap breakout is not something we would ever try fading (i.e., shorting). It represented a unique opportunity that we fully embraced and are now reaping the rewards from. The Alts MCap is continuously creating higher highs and higher lows which depicts a bullish market structure. No weakness insight on the buy-side.
Ethereum

ETH has pumped beyond imagination and breached $3,000 already. A notable factor we are seeing in the market on ETH right now is dry supply. No one wants to sell ETH, and they are getting taken off exchanges too; with high demand, this leads one way: UP. We commonly call this a: sell-side liquidity crisis.
Bitcoin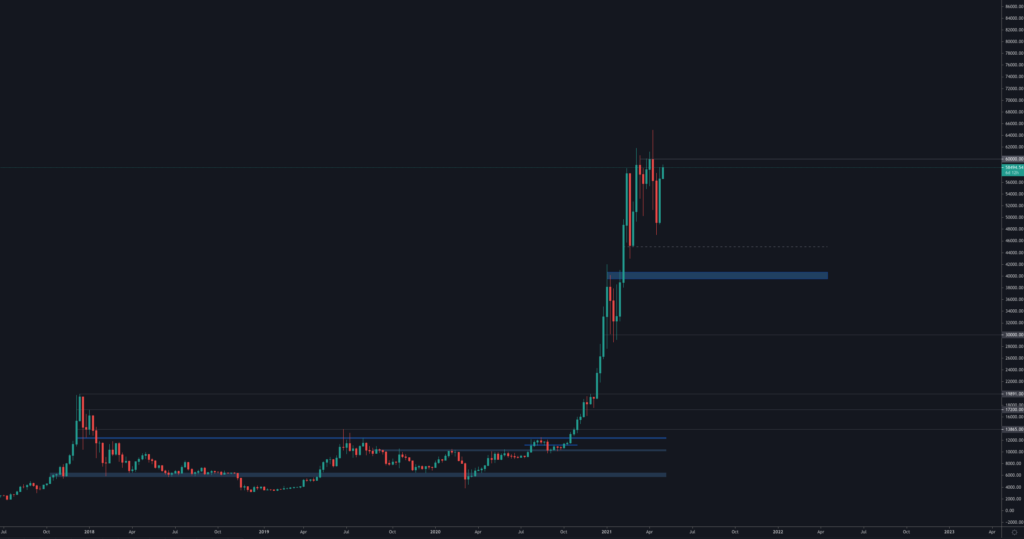 Bitcoin registered a bullish engulfing weekly candle which eliminated the majority of the downside seen. The next step is a weekly candle closure above $60,000 for BTC to enter price discovery once again, where the target would be $74,000 (conditional upon a weekly candle closure above $60,000).
DOT
DOT is stuck in between two critical levels: $27 and $40. It is a swing trader's dream zone, but it only becomes interesting for investors (like us) upon a daily break above $40 as that can lead to price discovery and our $100 target.
SNX
SNX created continuous lower highs and lower lows. Today it seems like SNX wants to overtake $18.25, which would send it towards $23.60 (dependent on the daily closure).
RUNE
The meteoric rise was followed by natural consolidation. RUNE found lots of demand near $10 as buyers saw this as a unique opportunity. The market is currently communicating that RUNE's fair price is $15 at this moment in time. We find this fair, and RUNE would become valued higher only once limits are removed/raised on MCCN since that boosts supply. $17 is the critical area to overtake and tackle for further price discovery from a technical perspective.
FTT
FTT is an exchange token that benefits from high transactional volumes, and that's undoubtedly something exchanges have been seeing. FTT reclaimed $50, crossed the counter-trendline, and is now about to create a brand new daily candle closure high which would boots prices into price discovery and our $100 target.
AAVE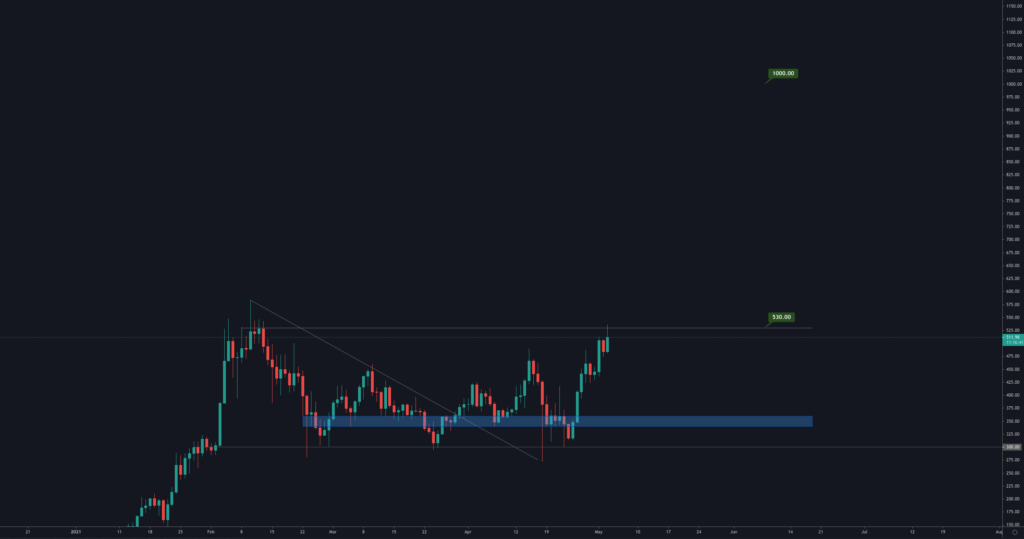 We have a swing long trade on AAVE from $375. We cannot be shy with targets in a bull market, and hence we set our take profit as $1,000. Price has now reached the previous high of $530; once it overtakes it on the daily timeframe with conviction, that would become our next invalidation level and help us reduce the risk on the trade.
XRP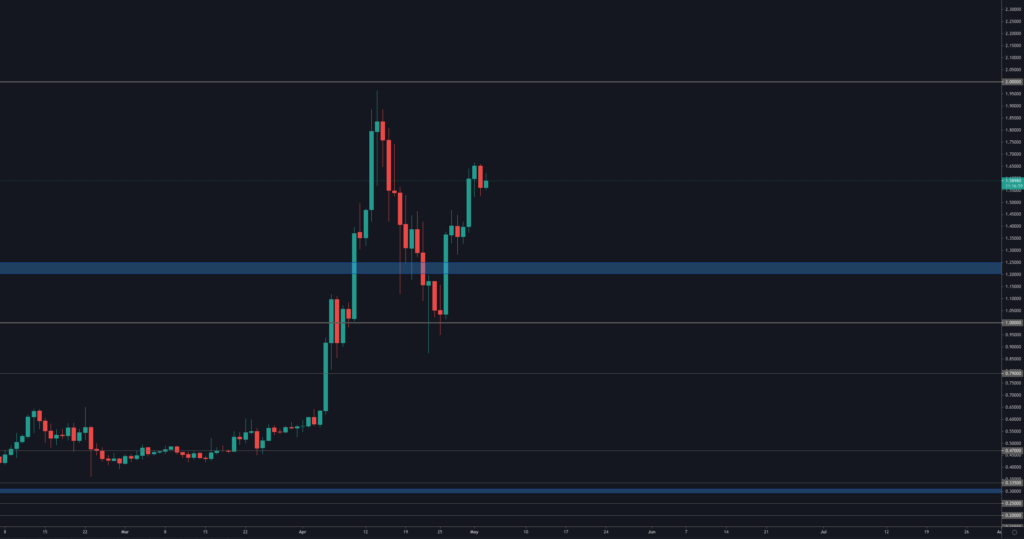 XRP overtook $1.25 on the daily timeframe, which set the next target at $2 – we plan to make profits at that level.
SOLANA
Despite many Solana-based tokens increasing dramatically in price, SOL remained relatively stable and had a flat week. We saw significant demand step in at the critical level of $40.73, which pushed the price into a new all-time high. Given that SOL Season is only starting, we speculate further upside will be happening on SOL's worth, but of course, we must manage our expectations and not imagine that it'll be a straight green line.
SRM
SRM is undoubtedly starting to benefit from the BLUECHIP title. Price is in price discovery, and the following two psychological key levels in sight are $15 and $20 – the latter being our take profit price on our SRM investment since $0.80.
RAY
RAY/SRM/SOL are three key names in the Solana ecosystem that are all considered bluechips in that ecosystem – all three are benefiting from this narrative. RAY crossed $12.50 on the daily timeframe, we bought in and it is now in price discovery. Our price target is $90.
Disclaimer: None of the information shared establishes financial guidance under any circumstance, nor does it express any type of instruction.