The world's second-largest cryptocurrency Theory (ETH) is holding up confidently above $3500 and is eyeing a new all-time high above $3600. At press time, ETH is trading 4% up at $3553 with a market cap of $409 billion.
The recent ETH price surge comes as, on Friday, May 7, asset manager VanEck filed for the first Ethereum exchange-traded-fund (ETF) in the U.S. market. This is the first filing for an Ether ETF in the U.S. by any big financial giant.
Having filed its Bitcoin ETF, which is already under the SEC consideration, VanEck seems to take the first-mover advantage in the case of Ethereum. The SEC recently delayed its approval decision on VanEck Bitcoin ETF, citing more time for decision making.
VanEck said that it will hold real ETH against the shares of its VanEck Ether ETF. Thus, retail and institutional investors can gain exposure to the world's second-largest crypto without directly investing in it. The value of these shares will be reported live using the MVIS CryptoCompare Ethereum Benchmark Rate. The VanEck Ether ETF is currently under the review of the U.S. SEC.
VanEck shall work with the CBOE BZX exchange on its Ether ETF offering. Apart from the U.S., VanEck is also expanding its crypto offerings in overseas markets. Earlier this week, VanEck launched the first crypto ETH in the European market.
Ethereum is showing solid fundamental
There has been trading at 5x year-to-date returns with its massive rally over the last week. As Carnap reported, the Ethereum fundamentals are showing strength. A lot of ETH is moving off exchanges and into smart contracts, DeFi and ETH 2.0 Deposit contracts.
As Glassnode reports, ETH supply at exchanges has dropped 12% while that in smart contracts has jumped 22%.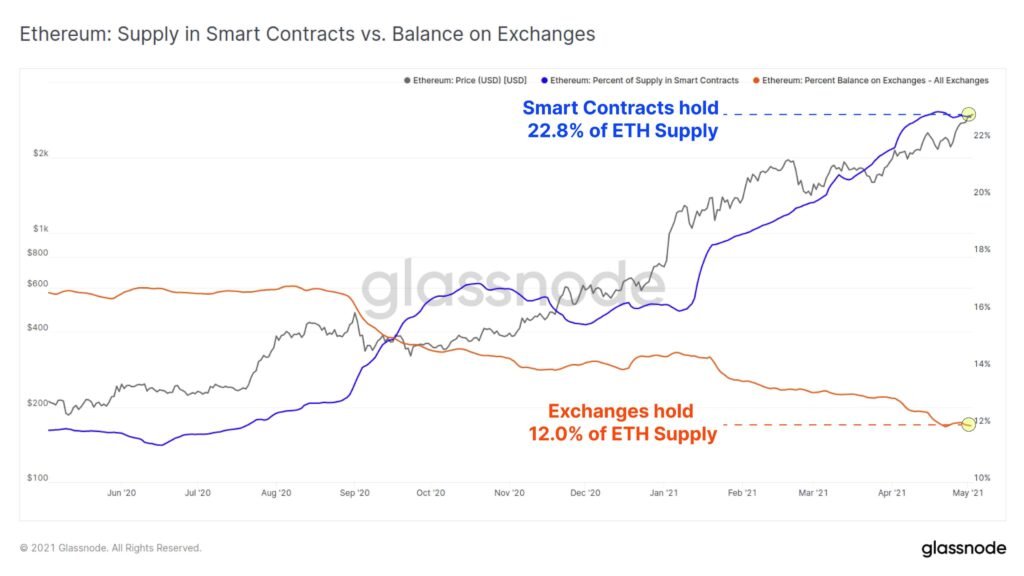 As we have seen, the Ethereum institutional interest also remains intact with every rise. Earlier this week, Nasdaq-listed Canadian firm Mogo purchased $400K worth of ETH from its corporate books.