Coinbase wants to raise another $1.25 Billion after its direct listing. It didn't say whether it wants to buy Bitcoin, but the possibility is still there.
Coinbase's IPO was great news for cryptocurrency enthusiasts. Still, since that time, the company's share price has done nothing but slide. In the midst of that collapse, the leading U.S. cryptocurrency exchange is looking for an even more significant cash infusion.
As per a P.R. published a few hours ago, the U.S. company revealed its intention to offer $1.25 Billion of Convertible Senior Notes Due 2026.
Coinbase wants to speed up its growth
The offering would be private and accessible only to institutional investors pursuant to Rule 144A promulgated under the Securities Act of 1933, i.e., those managing at least $100 million in securities issued by other companies.
Coinbase's decision comes just days after it reported over $1.8 billion in total revenue for the first quarter of 2021. Convertible bonds are debt securities in which an investor acquires the power to demand payment in cash with interest or convert the value of their notes for the equivalent in shares of the company that issued the debt.
Coinbase did not disclose any specific purpose for raising so much money, but the markets did not take too kindly to the announcement. The stock fell 3% throughout the day, touching a low of $238 before bouncing back a bit to $248, the first time the stock has closed below the $250 reference —and an all-time low since $COIN's market launch.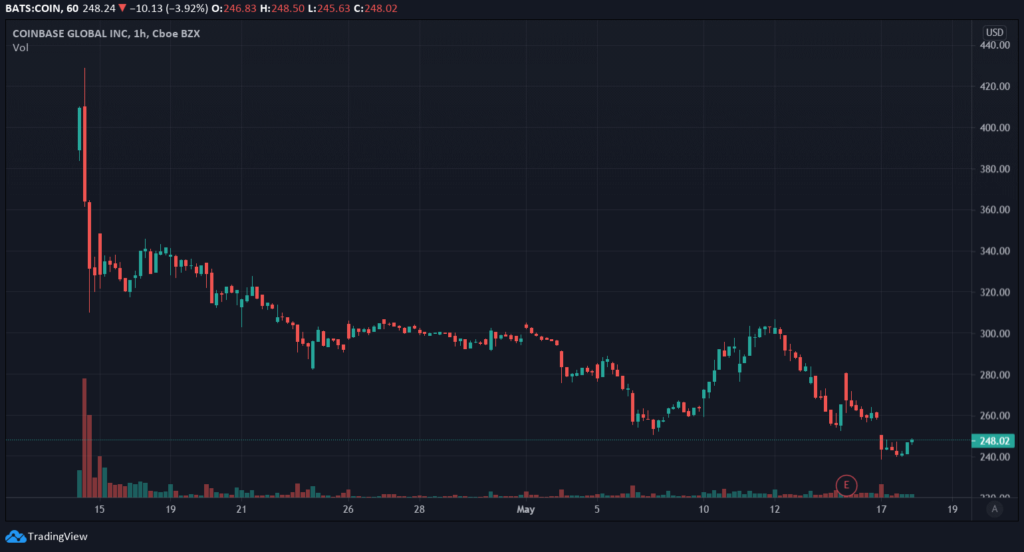 Companies are not required to disclose the purpose of expenditures when issuing this type of debt. For example, Coinbase simply stated that it was seeking to cover corporate expenses.
This capital raise represents an opportunity to bolster Coinbase's already strong balance sheet with low cost capital that maintains operating freedom and minimizes dilution for Coinbase's stockholders. Coinbase intends to use the net proceeds from the offering for general corporate purposes, which may include working capital and capital expenditures, and to pay the cost of the capped call transactions.
A New Major Bitcoin Investment?
The vague nature of the term gives rise to much speculation, including a possible purchase of cryptocurrencies, following in the footsteps of MicroStrategy, which made a similar move a few months ago.
On February 19, 2021, MicroStrategy announced that it had completed a $1.05 Billion Offering of Convertible Notes at 0% Coupon and 50% Conversion Premium, with the express purpose of purchasing Bitcoin as part of its corporate strategy. A few days later, it disclosed that it had bought 19,452 bitcoins at a price of approximately $1.6 Billion.
Bitcoin was trading at about $47000 at the time of the announcement and climbed from there to an ATH of about $65000 in just under 2 months. Currently, Bitcoin is trading below $45000. However, MicroStrategy is still in profit because the average price of its investments is below the overall market price.
Another company that recently announced a convertible note offering was Twitter. As previously reported by Cryptopotato, the company plans to raise $1.25 billion via a convertible senior notes offering. However, it has not disclosed the destination of these funds.
However, Jack Dorsey, the company's CEO, has taken a solid pro-Bitcoin stance over the past few years, and his payment processing company Square has already invested in Bitcoin.
Source: CryptoPotato