While Bitcoin is recovering from the $42,000 prices, Polygon's MATIC token skyrockets to $2.19. This is primarily attributed to the rise of Polygon-based decentralized applications.
After a significant drop to a three-month low, the main cryptocurrency on the market managed to return to the level of 45,000. In the meantime, projects related to dApps are being "fired". One of these was Polygon, whose MATIC token increased in price by 29.71%, and its trading volume by 42.2%. Now the coin is trading at an average price of $2.15, while the day before it barely reached $1.7.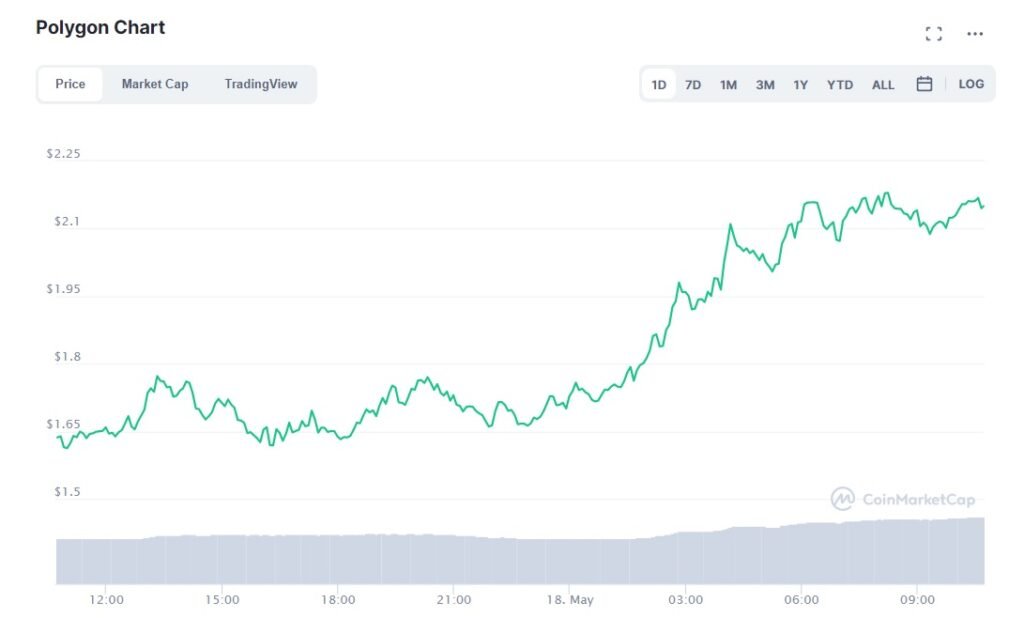 Polygon (Matic Network) was created as an Ethereum sidechain to speed up dApps and smart contracts, and its throughput allows processing 7,000 transactions per second. Such projects are designed to take over the "extra" load of the Ethereum blockchain, and Polygon does it well.
In addition to the pleasant price change, the developers noted an increase in the activity of the user base of the decentralized applications of the Polygon ecosystem. Over the past 7 days, 75,000 wallets have interacted with them, and the number of applications themselves has grown from 61 to 93.
Among the successful projects sponsored by Polygon are QuickSwap, ParaSwap, and Aave, who joined in March this year. QuickSwap reported a 210% increase in users and 240% in transaction volume.
Apparently, we can face the fact that the crypto community has already dubbed "DeFi summer". If the situation with the main market players moves slowly, more and more promising projects in the field of decentralized finance will fall under the attention of enthusiasts, investing in which they will be able to make a profit in a shorter time frame.
Source: CoinShark